Hello everyone,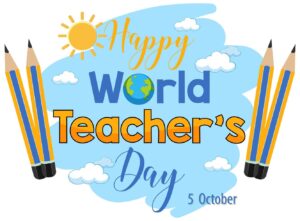 On Thursday, Mr. Yamauchi asked me "Did you know that today is 'World Teacher Day'?" I didn't, and I got excited, because I thought maybe that we would have a holiday! But we actually still had classes. October 5th is "World Teacher Day" which celebrates the work of teachers everywhere.
Then I started thinking… are there days for other jobs too? How about… "World Nurse Day"? There is! It is on May 12th, which is the birthday of Florence Nightingale. How about a "World Pilot Day"? There is one of those too! It is on April 26th, because that is the day a famous pilot from Turkey first flew.
Then I started searching for things that are a little bit stranger…
World Hamburger Day is May 28th
World Movie Day is on February 10th
World Ice Cream Day is on July 16th
World 'Hug Your Cat' Day is June 6th
… and on and on and on. So, if you want to make up a new holiday, just call it "World ~ Day", and pick a spot on the calendar. Don't worry, the other events can share the space! After all, there are only 365 days a year, so we need to be good holiday neighbors. I mean, September 19th is both World Gymnastics Day AND World 'Talk Like A Pirate' Day.
Yarrrr…