Hello everyone,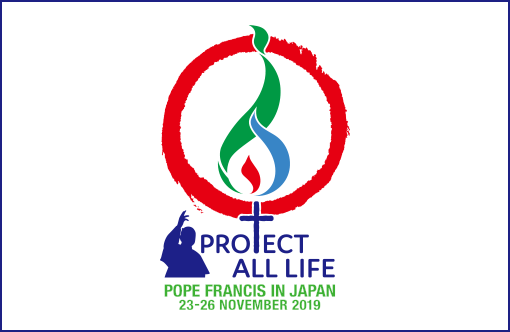 Have you heard the news? Next week, from November 23rd to the 26th, Pope Francis will visit Japan. It is only the second visit by a pope to Japan, with the last one being in 1981… even I was a little boy back then!
The theme for his visit is "Protect All Life". He will visit Tokyo, Nagasaki, and Hiroshima during his stay. If you want to read more about the event, you can check out the website here: https://popeinjapan2019.jp/en/
Here is the summary about the logo concept from the website:
United with the red flame representing martyrs as the foundation of the Church in Japan and the light blue flame representing the Blessed Mother embracing all humanity as her children, the green flame in the likeness of Japan abundant with nature expresses the mission to proclaim the Gospel of hope. The red circle as the image of the sun embraces all life equally with love.
The logo expresses the theme of Pope Francis' visit to Japan, PROTECT ALL LIFE.